Gazebo Wedding Packages
We can seat upt to 50 guests for your ceremony inside our chapel or outside in the gazebo.
Let us know if we can customize any of the packages to meet your needs.
Stay in one of our fabulous Honeymoon Suites, all have a heart shaped Jacuzzi tub and gas fireplace. Starting with the 'Forever' package, the Honeymoon Suite is included in the package cost.
Our suites are perfect for a romantic getaway where you could spend nights with your loved one in a cozy private atmosphere.
Also, your guests will receive a discounted rate on lodging at our Rodeway Inn Casino Center just for being of your wedding party. Please Call (530) 542-1345
Platinum - $690
Ceremony in outdoor Gazebo
Seating for 50 Guests
Minister Fee & Marriage License
Music Traditional (Or your CD)
Photography (25 Pictures on CD)
Six Rose Hand Tied Bridal Bouquet
Groom's Boutonniere
Decorative Certificate in Book
Complimentary Bottle of Champagne or Cider
Call: (530) 542-1345 or (800) 215-0656
Elopement for Two - $290
Ceremony in outdoor Gazebo
Minister Fee
Marriage License
Music - Traditional (or your CD)
Decorative Certificate in Book
Call: (530)543-1245 or (800) 215-0656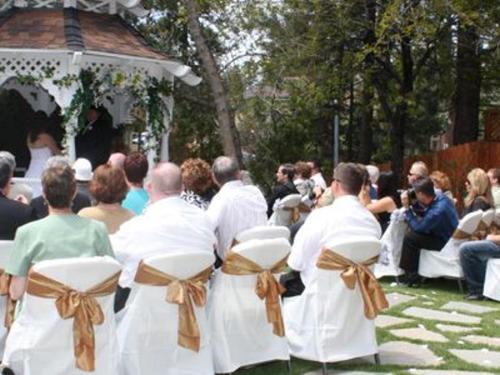 Forever - $930
1 Nt in Honeymoon Suite
Fresh Flowers in Room on Arrival
Complimentary Bottle of Champagne or Cider
Ceremony in Elegant Chapel
Minister Fee
Marriage License
Music Traditional (Or your CD)
Photography (25 Pictures on CD)
Six Rose Hand Tied Bridal Bouquet
Groom's Boutonniere
Decorative Certificate in Book
Call: (530) 543-1245 or (800) 215-0656
Gold - $590 ***
Ceremony in Elegant Chapel
Minister Fee
Marriage License
Music Traditional (Or your CD)
Photography (25 Pictures on CD)
Decorative Certificate in Book
Complimentary Bottle of Champagne or Cider
Call: (530) 542-1345 or (800) 215-0656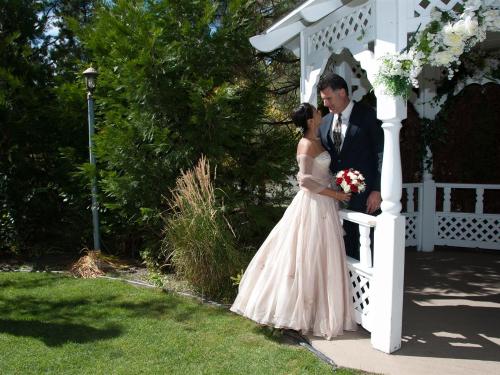 Rose - $1390
2 Nights in Honeymoon Suite
Ceremony in Elegant Chapel
Fresh Flowers in Room on Arrival
Minister Fee & Marriage License
Music - Traditional (or your CD)
Photography (25 Pictures on CD)
Six Rose Hand Tied Bridal Bouquet
Groom's Boutonniere
Decorative Certificate in Book
Complimentary Bottle Champagne or Cider
Call: (530) 542-1345 or (800) 215-0656
Diamond - $1590
3 Nights in Honeymoon Suite
Fresh Flowers in Room on Arrival
Ceremony in Elegant Chapel
Emerald Bay Boat Cruise MS Dixie II Paddlewheeler
Minister Fee
Marriage License
Music Traditional (Or your CD)
Photography (25 Pictures on CD)
Six Rose Hand Tied Bridal Bouquet
Groom's Boutonniere Decorative Certificate in Book
Complimentary Bottle of Champagne or Cider
(530) 542-1345 or (800) 215-0656
* Featured Package *